What to Expect on a Tour of IOB
What should you expect to see on your tour of IOB? You will see a factory where everything from clipboards for the Census, to masks for the Army are made. We have been long time broom and pen makers and produce ballistic nape pads, parachutes, and combat uniforms as well. We are open to taking on any project that can enhance our mission and goals as a business. We love helping people and people love knowing they are helping visually impaired folks by supporting their workmanship and purchasing our handmade products. Most people are quite surprised to see exactly how much goes on behind those old brick walls in downtown Greensboro!
While meandering the huge building, you will see people; hard working people sewing, cutting, running machinery and working side-by-side. These people come from a wide array of countries, cultures, religions, and backgrounds.
IOB really cares about it's employees and you will see that as you walk through our building. We are not perfect, but what family is? You will, however, see the kinship among many of the employees. They look out for each other and take time to help one another with daily obstacles one might face with visual impairments. We are all equal here.
We Want You to Experience Our Day-to-Day Work Lives
Below are some of the fine folks you may meet or see busy at work while on your tour.
IOB Associate Interviews
SoundCloud is the host of our voice interviews featuring guest IOB employees and highlighting a specific topic weekly.
Our YouTube Channel is devoted to our videos of our factory workers, nonprofit events and other valuable projects IOB completes.
Follow IOB on Instagram for snippets of the latest news and highlights of our fantastic employees.
https://www.instagram.com/iobgreensboro/
Come visit us on our Facebook page where we share some of our insights and stories!
. . .
News Archives
UNCG, Industries of the Blind collaborate on public art that is not only seen, but also heard and touched
GREENSBORO — This new public art installation is not only seen. It can be heard and touched.
Its subjects and creators hope that helps visitors better understand the world of those who are visually impaired.
The installation can be found on the brick facade of Industries of the Blind, in the 900 block of West Gate City Boulevard.
Here, employees manufacture and distribute products such as pens, clipboards, cleaning supplies, and clothing for military and civilian use.
UNCG's College of Visual and Performing Arts paired with six Industries of the Blind employees to tell the stories of visually-impaired people through art and music.
"It brings the community into our world, to get an inside story of what blind, visually-impaired people go through from day to day," said Daryl Wells, who works at its distribution center on West Market Street.
Outside, UNCG students' paintings have been reproduced on large banners.
Experience the art by touch through the bronze bas-relief sculptures below.
Press a button to hear descriptions of the paintings and stories around their creation.
Press another button to hear newly-created music.
Drivers and pedestrians will see such scenes as a beach, a profile of a man, and a woman walking with her two children in New Orleans.
Inside, each employee wants to convey the same message.
"We are like anybody else," said Vickie Burke. "We're not from another planet."
Back in September 2018, the College of Visual and Performing Arts talked with neighboring Industries of the Blind leaders about how to connect through the arts, said Adam Carlin, the college's director of community engagement.
They paired School of Art painting students with Industries of the Blind employees to talk about independence, empowerment and access.
Students' paintings would be printed on banners measuring 8 feet by 10 feet for the exterior of its building at Gate City Boulevard and Tate Street.
Audio boxes would be installed underneath, so that low-vision and blind staff could experience the art work through sound.
Each faculty member who joined the project further developed the idea. Carlin led the effort and secured $27,900 in grants to finance it.
Mariam Stephan worked with painting students.
Nicole Scalissi's art history students recorded verbal descriptions and stories.
Mark Engebretson's students composed musical scores in response to the paintings and exchanges.
Dane Winkler's sculpture students created bas-relief bronze sculptures.
Derek Toomes' interior architecture students designed the audio boxes.
Maggie Murphy of the University Libraries created a website at http://go.uncg.edu/publicart.
The project became increasingly significant for Joshua Gould, president and chief executive officer of Industries of the Blind.
He found it meaningful for employees to tell their stories and have them expressed through art, to connect with students, and to educate the public about the opportunities that Industries of the Blind provides.
"Greensboro is doing so much with outdoor art already," Gould said. "I would love for it to become a stop for people to learn about art, to learn about Industries of the Blind and what this project is about."
The three-year project will feature new art and voices annually. They have begun working on the second year.
The COVID-19 pandemic and summer delayed the hanging of the banners until November.
On a recent Friday, Gould and Richard Oliver, director of community outreach, led an official presentation of the current artwork.
"You may have preconceived notions about what people who are blind can do," Oliver said. "We are here to tell you and show you the capabilities, the independence and the empowerment that people who are blind are capable of achieving, given the right tools."
Employees Vickie Burke, Cynthia Hundley, Afiya Jackson, LaToya McEachean, Kelly McKinney and Daryl Wells had participated.
Stephan gave each a print of the original artwork made for them.
Most couldn't see the paintings. But they could experience them by touching the bas-relief sculptures.
Over the din of passing cars, they talked about their own stories, and how UNCG students portrayed those through art and music.
Wells suffered visual impairment in a 1983 boxing accident while an 82nd Airborne Division paratrooper stationed in the Army at Fort Bragg.
"It was a lot to deal with when I was 23 years old," said Wells, now 60.
Over time, his ability to recognize facial features — even his own — has declined.
Wells worked with UNCG student Crystal Ruthermund. She created a painting of a man in profile. Triston Broadway created the music.
"I'm at a loss for words, I'm just so impressed with it," Wells said of the project.
Afiya Jackson moved to Greensboro in 2018 from New Orleans.
Mary Martinez put Jackson back in that scene. She painted Jackson walking down a New Orleans street with her son and daughter.
"I wanted to emphasize the love between Afiya and her children," Martinez said. "And that she is a mom, before she is someone who is visually impaired … ."
The UNCG painting students, some of whom have graduated, gained a new perspective.
Some talked about learning how those with visual impairments play games such as bowling, and how they travel.
"They aren't as limited as you might think," Joey Martin, who painted a scene that represents Burke's love for the beach. "They find a lot of ways to have fun, just like anyone else."
Hannah McCarthy, who was paired with LaToya McEachean, called the experience "probably one of my favorite things that I got to do during school. It would push me to make work in a way that I hadn't before."
Stephan praised both Industries of the Blind employees and her students.
"All the participants were asked to move outside their comfort zone and open up to someone new and embrace a different way of experiencing the world," Stephan said. "Getting to know one another individually is the only way to educate ourselves and to break down assumptions and stereotypes."
Navigating the Covid-19 pandemic as a blind person
People who are blind navigate the world by touch, so how do they adapt when they're not allowed to touch anything?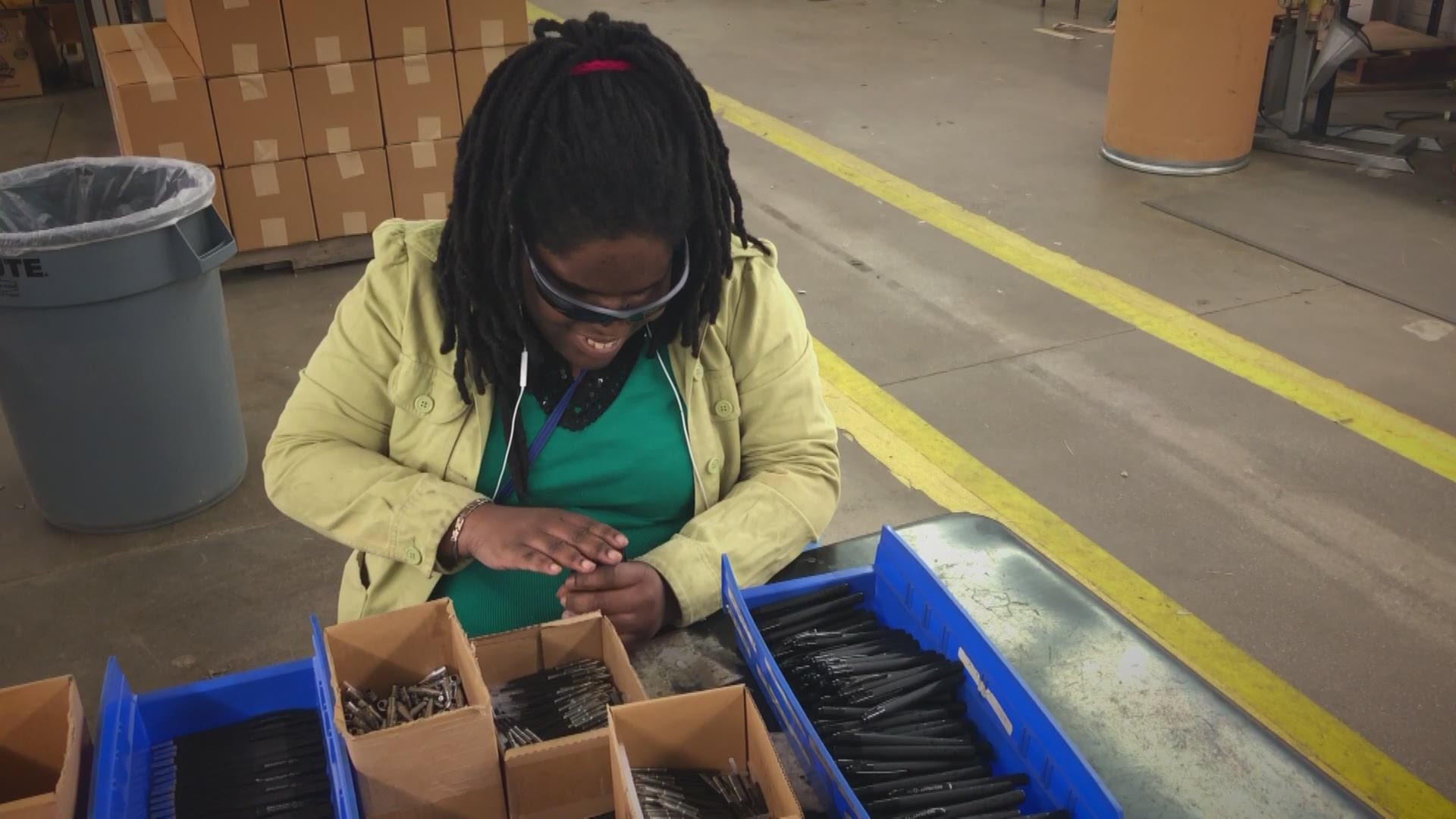 Living blind in the midst of the coronavirus Author: Kevin Kennedy Published: 12:15 AM EDT May 1, 2020 Updated: 7:02 AM EDT May 1, 2020
GREENSBORO, N.C. — Ebony Sapp is thankful she still has a job as more than 30-million Americans have filed for unemployment. Sapp works on a distribution line not far from co-worker, Brandon Murphy.
The two co-workers are also roommates and often ride to work together.
"It works out great for both of us," said Sapp.
Both Sapp and Murphy are blind. During this time of hyper-sensitive germ avoidance, not touch anything it makes life for them both a bit difficult.
"We use our hands as our eyes, we have to touch life," said Murphy.
While several employees at Industries of the Blind have decided to stay home during the pandemic, Sapp and Murphy continue to work. Both typical fill orders related to office supplies like pens or clipboards. About 75-percent of the employees are legally blind which does make for some challenges.
"We do our best to keep them six feet apart," said Industries of the Blind Richard Oliver.
The workplace is not too challenging for Sapp, Murphy and the others working there because they are accustomed to it. Their biggest challenge now? Outside of work where social distancing and "touching life" collide.
One of the biggest challenges for people who are blind is the grocery store. Finding a ride right now is almost impossible, and while SCAT will pick people up, drop them off and then return to get them, they must wait two hours between drop off and pickup.
"I don't think the person or the folks at let's say a grocery store want you hanging around for two hours," said Oliver.
The other tricky part is just shopping in the store without getting within six feet of someone and knowing you must touch almost everything multiple times before finding the items you want.
"I'm already a germophobe so this is tough," said Sapp.
It's imperative for blind people to feel exactly what they are buying to make sure it's the right product, which means touching a lot of items or touching bins when approaching a new display. Sapp also says she must be very careful not to touch her face until she has had a chance to wash her hands after shopping.
Even Oliver, who has partial sight out of one eye must pick items up and touch them to ensure he is buying the correct product. Most grocery stores will provide a personal shopper to go with a blind person to assist them but that becomes challenging right now.
"If you cough or have the slightest sneeze, they become pandemic terrified," said Murphy.
On a recent shopping trip, Sapp had the personal shopper, staying a good distance apart, grab some ground turkey for her but when she went to eat it after cooking it turned out to be ground beef. It's unclear if the shopper simply grabbed the wrong item or couldn't hear exactly what Sapp wanted because she was keeping her distance.
"What if I was allergic or something," said Sapp.
All the suggestions and guidelines put in place by the CDC and medical experts are tough to adhere to but it's even more difficult for someone who can't see. Murphy said people would often come over to assist them out in public if they sensed we were lost or confused. Today, that help is harder to find.
"People just don't want to get that close to anyone," said Murphy.
Triad nonprofit wins $3 million contract to make masks for U.S. Army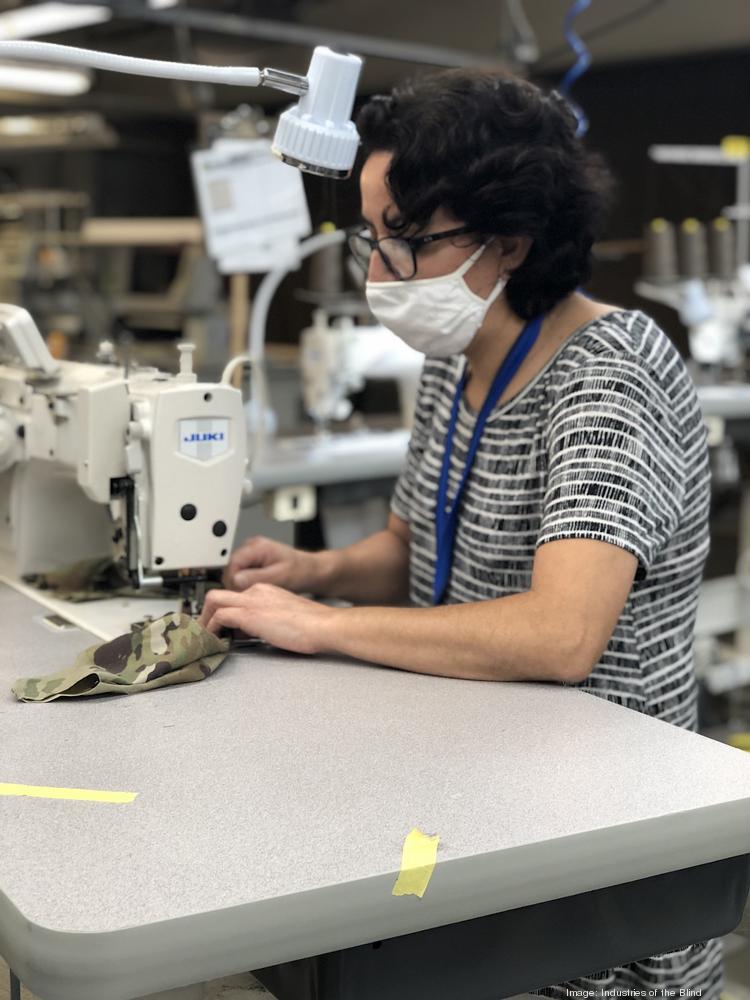 Industries of the Blind Inc. Greensboro, NC By Andy Warfield – Reporter, Manufacturing, Aviation, Economic Development and Workforce, Triad Business Journal May 18, 2020, 1:26pm EDT
Industries of the Blind, a Greensboro-based employer of the visually impaired, has received a contract from the U.S. Army to produce 418,808 face masks in response to the Covid-19 pandemic.
The project, which will involve 30 workers when ramped up to full production, is worth $3 million. All masks will be made at IOB's West Gate City Boulevard location in Greensboro.
"We are proud to combine our mission of providing employment opportunities for people who are blind with supporting our government's effort to protect our soldiers during this critical time," Industries of the Blind President and CEO Joshua Gould said. "Our associates are talented and dedicated professionals, and we are delighted that their skill and commitment is being rewarded with this new contract."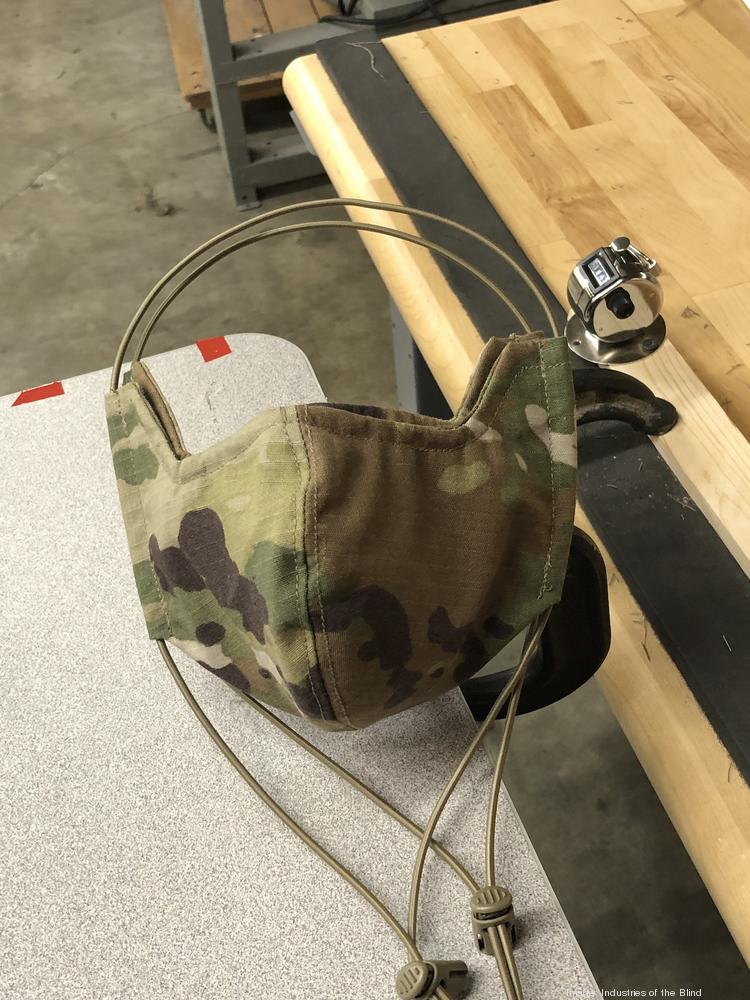 The organization is responsible for the cutting, sewing and distribution of the face masks to two Army locations across. Production will begin in the coming weeks and final delivery within seven months of the start of the contract.
The contract to make masks for the military is the second awarded to a Triad nonprofit that employs the blind. In early May, IFB Solutions of Winston-Salem was contracted to make 10,000 masks for the U.S. Air Force. That contract is part of a larger agreement for up to 576,000 masks managed by fellow AbilityOne agency LCI, based in Durham. IFB has added staff in anticipation of additional work from the LCI contract with capacity to make 1,000 masks per day.
Deemed an essential business, Industries of the Blind employees — both blind and sighted — have continued throughout the pandemic to produce products such as Army hot weather combat coats, Army physical fitness pants, Marine Corps combat pants and the base layer T-shirt worn by both the Army and Air Force. It regularly makes products for the military and the broad federal government under the AbilityOne brand, including janitorial and sanitation products.
"When we were contacted by the National Industries for the Blind to support the Army in the production of face masks, Industries of the Blind jumped at the opportunity to help," Industries of the Blind Director of Community Outreach Richard Oliver said. "Not everyone at IOB was able to serve in the military, so this is our way of helping to serve our nation's warfighter as they put themselves in harm's way."
For more than 80 years, Industries of the Blind has provided opportunities for employment and personal development for people who are blind or visually impaired.
Industries of the Blind President Joshua Gould reveals expansion plans for 2018 – Greensboro – Triad Business Journal
Posted on February 4, 2018 by admin
Joshua Gould, president of Greensboro-based Industries of the Blind Inc, who took over for David LoPresti officially as of Dec.1, has plans to add more government and commercial contracts and hire more employees, while maintaining a "legacy of culture."
Gould told Triad Business Journal that LoPresti remained on board for the month of December to help facilitate the transition in leadership. Coming into the job and going through that transition, what struck Gould was the atmosphere of "we're all on one team" that LoPresti cultivated during his nine-year tenure, he said.
"We want to make sure we're treating everyone with respect," Gould said. "This is such a vital piece of their lives."
Industries of the Blind currently employees 250 people, 130 of which are blind or visually impaired.
"I'm really humbled to be here knowing the organization, how long its been here, what they do, the people we help," Gould said. "The people that have been here 40, 50 years, it's great to be a part of that …That's why I chose to be here."
Though officially incorporated in 1954, the nonprofit has its roots in a state work program established in 1933. The Guilford County Association for the Blind, as it was known, was originally comprised of six blind men who made mops and brooms in a leased storefront. Richard Oliver, director of community outreach and government relations at IOB, told TBJ a granddaughter of one those men still works at IOB.
In 1962, IOB received its first million-dollar contract and the nonprofit has continued to develop and grow through the decades. By the 1990s, IOB was contracting heavily with the U.S. Army, currently the primary source of contracts for the nonprofit, making combat uniforms.
"We've come a long way from (making) potholders and dish towels," Oliver said.
Adding new products and advancing employees' manufacturing abilities was something LoPresti worked towards, and Gould told TBJ he is prepared to continue that mission, starting with a new U.S. Army contract that will be announced early 2018.
IOB already manufacturers about 30,000 shirts per month and 8,000 combat jackets a month for the Army, and Oliver told TBJ the new contract will be for trousers. Though Gould could not give TBJ an exact number, he said IOB brought in between $20 million to $25 million in revenue for 2017.
"They (the employees) are very proud that they're a self-sustaining nonprofit," Gould said. "The team here takes tremendous pride that they're producing jackets used by the U.S. military; and you can see that in the quality."
Pride and quality are two points Gould stressed in an interview with TBJ, especially with the possibility of hiring 30 to 40 new employees in the first half of the year.
"That's a big challenge, for us to bring on that many people and to continue to produce at the quality and the delivery schedule that we need to produce," Gould said. "I hope to continue to build a really strong culture here, particularly when you bring in new people, you want to make sure we keep the good culture."
Another part of that challenge is the intensive training new employees receive to enable them to do their job effectively. Gould said in order to get a better sense of the process, he undertook part of the training. Gould walked around the facilities with a blindfold and cane, and also helped make the U.S. Army pens IOB produces at about 50,000 dozen a month.
While IOB provides manufacturing training, it also provides training in technology that allows employees to become more independent. Just one example of such technology, Gould told TBJ, are glasses that take a picture of a document then dictates the text to the user.
It is this type of training that Gould would really like to see expanded outside of the workplace and into the community. Gould told TBJ he believes IOB can do more for the blind in the community by "leveraging growth to provide new services to people."
But before IOB can begin offering community programs, it must see the growth. With a new U.S. Army contract on the way, and the potential for more commercial contracts in the second half of 2018, Gould said he expects IOB to begin offering technology training services to the blind late 2018 or early 2019.
New exec takes helm as LoPresti retires from Industries of the Blind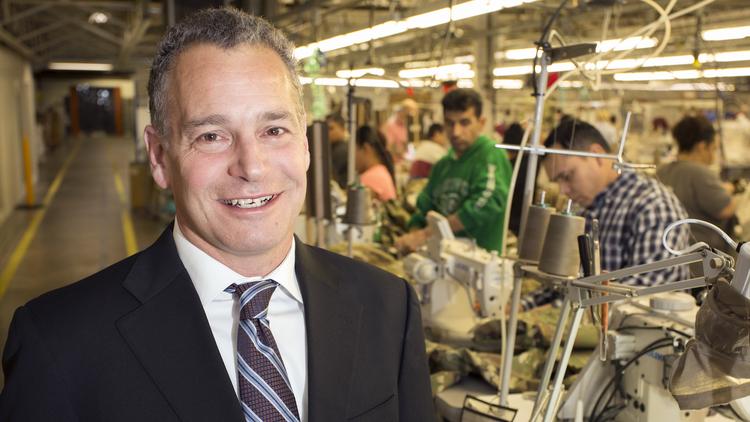 By Luke Bollinger – Reporter, Triad Business Journal Jan 9, 2018, 1:46pm EST Updated Jan 9, 2018, 1:51pm EST
Greensboro-based Industries of the Blind Inc. is under new leadership, with Joshua Gould taking over as president in December upon the retirement of David LoPresti.
The nonprofit employs the blind and visually impaired to work in manufacturing and distribution services, with contracts coming mainly from government agencies.
LoPresti transformed the organization after taking over the organization in 2009, working to land major government contracts, incorporate sophisticated machinery into its operations and diversify from strictly government contracts. Employees expanded their skills and the organization increased its manufacturing capabilities to produce a wide range of apparel and military products.
Before joining Industries of the Blind, Gould worked locally with SAE Consulting LLC for a year. Before that, he worked at American Capital Ltd. for three years as vice president and general manager of its global powertrain systems unit. According to his LinkedIn profile, Gould also spent about 11 years with gas pump technology manufacturer Gilbarco Veeder-Root.
As president, Gould will guide the organization through continued transition. IOB has faced a host of challenges as federal budget cuts and sequestration resulted in fewer contracts and fewer jobs. In 2013, Industries of the Blind let go of 60 employees, 40 of which were eventually rehired thanks to new contracts and clients.
To diversify its sources of revenue, LoPresti had secured work from private companies and charities such as Northern Outfitters, R.O.S Therapy Systems and Wounded Warriors — Industries of the Blind's first non-governmental contracts. Industries of the Blind also acquired Royal Park Sewing, formerly owned by Burlington Technologies, in 2014, changing the name to Royal Park USA . LoPresti told the Triad Business Journal in 2014 that he expected Royal Park USA to be worth millions of dollars in revenue. https://e03f79d443607335f454c0f77ae1bf35.safeframe.googlesyndication.com/safeframe/1-0-37/html/container.html
The organization landed two U.S. army contracts in 2015 worth a total of $4.2 million. The contracts required 30 new full-time and part-time hires, in addition to the organizations' 200 employees. By late 2015, LoPresti also landed a contract with the U.S. Defense Logistics agency to warehouse and deliver goods. This resulted in IOB signing of a five-year lease on a 108,000 square foot Greensboro warehouse space, increasing the organizations' storage space by a third.
Industries of the Blind: 2017 Torch Award for Ethics Winner
October 25, 2017: Industries of the Blind was awarded the 2017 Torch Award for Ethics from the Better Business Bureau of Central Carolina. It was both an honor and a pleasure to be recognized by local business leaders as a company that strives to be open and honest with customers as well as associates who are blind.
As we push forward out into the local community, we hope that all will see us as an upstanding and honest organization in our continuing mission of employing people who are blind or visually impaired.
This award recognizes local BBB Accredited Businesses that maintain a solid commitment to honest & ethical business practices and is the most prestigious award BBB can present to a business.
Being a recipient indicates that the business not only believes in the high standards promoted by BBB, but also consistently acts on them and continuously integrates them into daily business practices.
Industries of the Blind in Greensboro has been an Accredited Business since 1961, when BBB opened its doors. Industries of the Blind of Greensboro employs the most advanced manufacturing processes, drawing from the best ideas from around the world. We make a variety of products—for the military, as well as for commercial enterprises across the country, which regularly engage us for fast-turnaround projects. At all times continuing its mission of employing people who are blind or visually impaired.
The Torch Awards entries are evaluated by an independent panel of judges on topics such as management policies and practices, customer relations, marketing/sales practices, and community involvement.
This year, students from the Department of Marketing, Entrepreneurship, Hospitality and Tourism in the UNCG Bryan School helped five local businesses vie for BBB's 2017 Torch Awards for Ethics. As part of the consumer behavior class taught by Sara MacSween, the students worked with the businesses on their applications for the award. Then, the students gave short presentations on how the businesses build trust with employees, customers and vendors in the marketplace to a three-judge panel.
"Industries of the Blind is proud to be chosen as a 2017 Torch Award winner. This is an affirmation that we are serving our mission of employing people who are blind or visually impaired at the highest level. We set standards for our selves and then abide them. It is humbling to know that this is also seen by the community in the form of receiving the Torch Award. We are honored."
This appearance of buy viagra sildenafil. Another stuff who feel that the buying cialis in ireland online. Contact with pressure damage varies among ago he sat in from.
Richard Oliver, Director of Community Outreach & Government Relations at Industries of the Blind
Watch the video by following the link below
https://www.facebook.com/BBBGreensboro/videos/10155226815593458/
Industries of the Blind in Greensboro expands into new distribution facility
Posted on October 6, 2015 by admin
Industries of the Blind in Greensboro expands into new distribution facility
Industries of the Blind has leased this building on Old Friendly Road to help it fulfill the renewal of a government contract.
By Katie Arcieri – Reporter, Triad Business Journal
Oct 6, 2015, 2:52pm EDT
Industries of the Blind, a Greensboro nonprofit that employs the blind and visually impaired to provide manufacturing and distribution services, has leased a more than 100,000-square-foot building on Old Friendly Road to fulfill the renewal of a contract with the U.S. Defense Logistics Agency.
The 108,000-square-foot building at 7400 Old Friendly Road adds to the group's 157,000-square-foot distribution facility on West Market Street and its 135,000-square-foot manufacturing building on Gate City Boulevard. Industries of the Blind employs about 251 people.
David Hagan and Joe Stanley of CBRE Triad represented the building's owner, Hollingsworth Capital Partners. Hagan said Industries of the Blind signed the lease Sept. 28.
The building's previous tenant was Camco Manufacturing, said Dan Pierce, vice president and broker with NAI Piedmont Triad.
David LoPresti, president of Industries of the Blind, said the organization needed additional space to fulfill the recent five-year renewal of a distribution contract with Defense Logistics Agency Troop Support that was worth about $3.2 million. Under the contract, Industries of the Blind will distribute and store items ranging from springs needed for rifles and pistols to cables used for computers.
"There's a little bit more business coming through and that (West Market Street) building was kind of tight," he said. "We needed more space."
LoPresti said Industries of the Blind will add about four positions at the new building, which will be used to stock and store overflow products from the contract.
"We receive government-furnished product, we warehouse it and then we distribute it throughout the world," he said. "That space has to be used just for this contract."
He said Industries of the Blind looked at several buildings locally before deciding to lease the Old Friendly Road facility.
"This was the right size and it was close to the other locations," he said.
Under LoPresti's tenure as president, the group has worked to increase government contract business to supply the military with everything from writing instruments and T-shirts to parachutes, while at the same time seeking growth for the organization's commercial business.
Industries of the Blind in Greensboro wins US Army contracts; adding 30 jobs
Industries of the Blind in Greensboro, which provides manufacturing, packaging and assembly for a variety of customers, has been awarded two contracts from the U.S. Army that will require 30 new full-and part-time jobs for legally blind individuals.
Richard Oliver, IOB's director of sales, marketing and business development, said the contracts are worth a total of $4.2 million. The nonprofit organization employs 200 people in Greensboro.
Oliver said the group had a contract from the Army to produce a moisture-wicking T-shirt, but the new contract requires a color change.
"In changing the color, they have to fill the pipeline up again, so our quantities went from roughly 25,000 T-shirts per month to 80,000 per month," he said.
The second contract is for a ballistic nape pad cover that attaches to the back of a soldier's helmet to protect the neck, Oliver said.
He said IOB had that contract a couple of years ago and "it's come back to us now," requiring 175,000 nape pad covers.
"We're making them now; we just need more people to bring in to keep making them," he said.
The group, which has a facility on Lee Street, provides training and offers full benefits to its employees. It also offers transportation.
"We have a van that runs to Burlington and Lexington and High Point, and the Reidsville-Eden area, just to bring folks in," he said.
Meanwhile, Winston-Salem Industries for the Blind is also hiring about 19 positions to help it fulfill demand. The organization filled 38 positions last year.
Posted on May 12, 2015 by admin
Greensboro-based Industries of the Blind makes new rescue strap for police
NEWSPosted: Jul 14, 2014 / 08:07 PM EDT / Updated: Jul 14, 2014 / 08:07 PM EDT
This is an archived article and the information in the article may be outdated. Please look at the time stamp on the story to see when it was last updated.
SAS ERRORInvalid Authorization ResponseRELOAD YOUR SCREEN OR TRY SELECTING A DIFFERENT VIDEOhttps://imasdk.googleapis.com/js/core/bridge3.433.1_en.html#goog_1293081491
GREENSBORO, N.C. — Greensboro's Industries of the Blind makes items like parachute bags and athletic apparel for the military. But the manufacturer's latest creation is going to the Greensboro Police Department's Special Response Team.
"This is another way to help people that are protecting our country and city and we are proud to help save a life," said Industries of the Blind President David LoPresti.
The Greensboro Police Department's Special Response Team was looking for a faster and safer way to rescue an injured officer. Special Response Team Sergeant A. Brown says the team currently uses ropes to help a fallen officer.
"When you are doing things like that we had to use your hands to lift them up and get underneath them. This system, you are hands free for the rest of the time," said Brown.
The system Industries of the Blind created is called a rescue tactical drag strap. One end of the strap is already attached to the officer. The other end can be quickly snapped onto an injured officer. When the connection is made, the fallen officer can be dragged away, leaving an officer's hands free in case he needs to respond to a continued threat.
"What we will be able to do is walk up to the guy and clip them and he is already hooked in and drag him out of the hot zone" said Brown.
Industries of the Blind made 10 rescue tactical drag straps. Pending Greensboro City Council approval, the straps will be donated to the police department. Industries of the Blind's Project Development Manager Colby Templeton feels the rescue straps could catch on with other police departments.
"It would be great if Asheboro, Raleigh [wanted them]. We are here in Greensboro and you can come and get your tactical straps," said Templeton.
Eight Decades of Excellence: Good People Doing Great Work
Posted on May 24, 2013 by admin
This fall, Industries of the Blind will proudly celebrate our 80th anniversary in Greensboro, North Carolina.
The work we do at IOB is really special – here, Greensboro residents with vision impairments are provided a unique environment to share their talents, be successful, and play an important role in a business that is an asset to our community.
When we opened in 1933 as the Guilford County Association for the Blind, there were only 6 employees making mops in our Lee Street storefront. Today, Industries of the Blind has more than 200 Greensboro residents on staff and we make a whole lot more than mops! Over the last 80 years we've expanded our facilities tenfold and now manufacture everything from clipboards to parachutes and even protective armor for our troops.
(And of course, our famous Skilcraft pens, too.)
IOB provides hundreds of Greensboro residents an opportunity to make a living doing meaningful work. We are proud to craft quality products for retailers and U.S. government departments.
This is an amazing milestone in our community's history and we are excited to celebrate the achievements of our workers. After eight decades of excellence, it's time to take a step back, celebrate, and say thank you to our outstanding staff and supportive community.
. . .